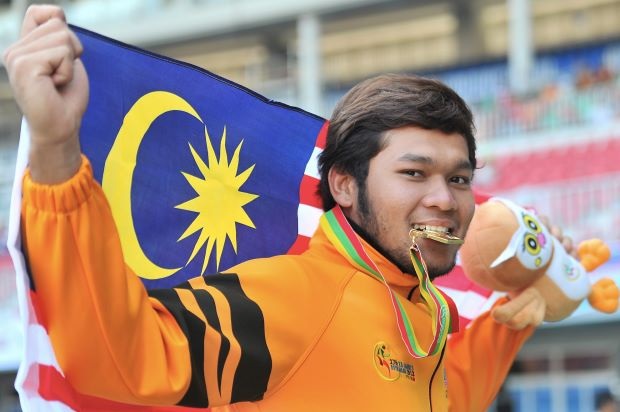 Discus thrower Mohd Irfan Shamsuddin won the gold medal with a new national record of 53.16, which was
more than three meters better than his previous mark.

NYAPYITAW: Teenager Mohd Irfan Shamsuddin created the biggest surprise on the first day of the athletics competition by breaking his national record by more than three metres en route to win the gold medal in the men discus at the Wunna Theikdi Main Stadium on Sunday.
The burly 18-year-old cleared 53.16m in the sixth and last throw to better his previous national record of 49.90m which he set in the Brunei Open last month.
Thailand Narong Benjaroon hurled a distance of 52.45m to bag the silver while the bronze went to Indonesia H. Hermanto, who cleared 51.69m.
Irfan was in smashing form, improving his national record five times in six throws #&45; 50.77m, 51.67m, 52.28m, 52.39m and 53.16m. The only exception was in the fourth throw when he could only manage 49.80m.
For his efforts, the Seremban lad has qualified for next year Under-19 World Junior Championships in Eugene, the United States, in July. The qualifying mark for the championships is 51.50m.
Irfan has shown tremendous improvement this season as it was the fourth time he broke the national record in six months. He first broke the record in the National Closed in Bukit Jalil in June with a throw of 49.81m.
A month later, he bettered the mark in the Selangor Open with a hurl of 49.86m, At the Brunei Open last month, he improved the mark by four centimetres.
The last Malaysian to win the gold in the discus event was Danapal Naidu in the 1967 SEAP Games.
Irfan, who only took up the sport two years ago, was delighted with his performance.
"It feels great. It is the best achievement of my life in athletics and it will inspire me to continue training harder to keep improving the mark.
"I was confident of surpassing the 50m here but never expected to improve it by more than 3m," said Irfan, who is majoring in business administration studies at Centre for Continuing Education University of Malaya (UMCCed).
Frantisek Petrovic was a proud coach, saying Irfan created history by being the youngest Malaysian athlete to break the national record at the Games.
"He has a bright future in discus, but he needs to compete at a higher level in future to improve his mark," said the Slovakia coach.